Bryophytes of Hampshire and the Isle of Wight
Isle of Wight (VC10)
The Isle of Wight, separated from Hampshire by the Solent, measures approximately 37km from west to east and 21km from north to south, covering a land area of about 39 sq km and with a coastline of more than 90km. The geology and topography are varied and complex; soils are derived mainly from clays, chalk and greensand, so vary from calcareous to acidic, but are mostly freely draining. A chalk ridge forms the 'backbone' to the island, stretching from West High Down (highest point 141m) in the west to Culver Cliff in the east, where chalk cliffs run vertically into the sea. The climate is characterised by low rainfall and relatively warm temperatures.
Important bryophyte habitats include coastal cliffs and chines with seepages, wooded landslips, chalk grassland, disused chalk and limestone quarries, ancient and mixed woodland (mostly on acid soils), wet woodland along river valleys, heathland and small remnants of bog. Less significant habitats include arable farmland, coastal grassland and saltmarsh.
Recording
In spite of its small size, the Isle of Wight is moderately rich in bryophytes with 377 well defined taxa recorded to date (297 mosses, 77 liverworts and 3 hornworts). About 20 taxa have been recorded from the Isle of Wight but not from Hampshire (VC11 & VC12). Historically, there was very little recording carried out until the BBS meeting of 1964 and subsequent visits by Francis Rose and Rod Stern in the 1970s, 80s and 90s. Another BBS meeting was held in 2002 when 12 new species were added, bringing the total at that time to about 345 species. An account of the bryoflora written by Lorna Snow, the previous VC10 Recorder, was published the following year in the Isle of Wight Flora (2003). Since 2017, recording has been carried out by island resident George Greiff, with occasional visits by John Norton, the present VC10 Recorder. Distribution maps have been produced for records up to September 2019.
Important sites and habitats
The coast
The Isle of Wight supports important populations of four Nationally Rare species, all associated with coastal habitats. The liverworts Cephaloziella baumgartneri (Endangered) and Southbya nigrella (GB Red List Vulnerable) both occur at St Catherine's Point, at the southern tip of the island, growing on limestone and mudstone rocks within a landslip area. A survey in 2017 indicated that both were still present but possibly only as very small populations.
The ephemeral moss Acaulon triquetrum (Endangered) is also well known at St Catherine's Point, but has recently been confirmed to occur in abundance at West High Down and Culver Cliff at the two ends of the island's chalk ridge. At Culver Cliff it occurs on mildly calcareous disturbed soil around a rabbit warren. Many thousands of plants were present during a brief survey in January 2019, including an estimated 80,000 alone in one large patch. The moss Philonotis marchica (Endangered) is historically known from seepages in Shanklin Chine and on nearby coastal cliffs below the town which are composed of a soft, acidic sandstone. In Britain Southbya nigrella only occurs elsewhere on the Isle of Portland; Cephaloziella baumgartneri also from Portland and widely scattered sites along the south coast of England eastwards, including a single locality in South Hampshire. Acaulon triquetrum is known from very few sites between Dorset and Sussex, where it has seriously declined. Philonotis marchica has only been recorded from one other British site in Yorkshire, in 1903.
St Catherine's Point was also where Sam Bosanquet discovered a new species to Britain during a family holiday in June 2013. This was Crossidium sqaumiferum (Nationally Rare), found near the top of an inaccessible cliff a short distance inland from the point. He also refound Rhynchostegiella litorea (Nationally Scarce, GB Red List Near Threatened) here, originally recorded by Tom Blockeel in 2001, and added the first island record of Sematophyllum substrumulosum from conifer logs at Blackgang Chine.
Pterygoneurum ovatum (Nationally Scarce) has recently been re-recorded at St Catherine's Point, Culver Cliff and Tennyson Down. At Culver it grows on calcareous soil with Tortula viridifolia (occasional in VC10). During a visit there in 2019 George Greiff also discovered Syntrichia calcicola in the same spot, also on calcareous soil. This species is quite different in appearance to the closely related Syntrichia ruralis var. ruralis which is usually found on concrete or gravel. S. calciola has spreading rather than squarrose leaves with a rounded apex, and the recurved margins only extend about two-thirds to three-quarters the length of the leaf. It is more likely to be mistaken for S. montana. It has since been found at other sites on the island and in South Hampshire (VC11). S. calcicola is recognised in Spain and other parts of Europe but British specimens examined in the past were found to be intermediate to S. ruralis, and the taxon is not currently accepted here (see comment in Smith's Moss Flora 2nd edn, p. 382). It is hoped to publish an article on this taxon in due course.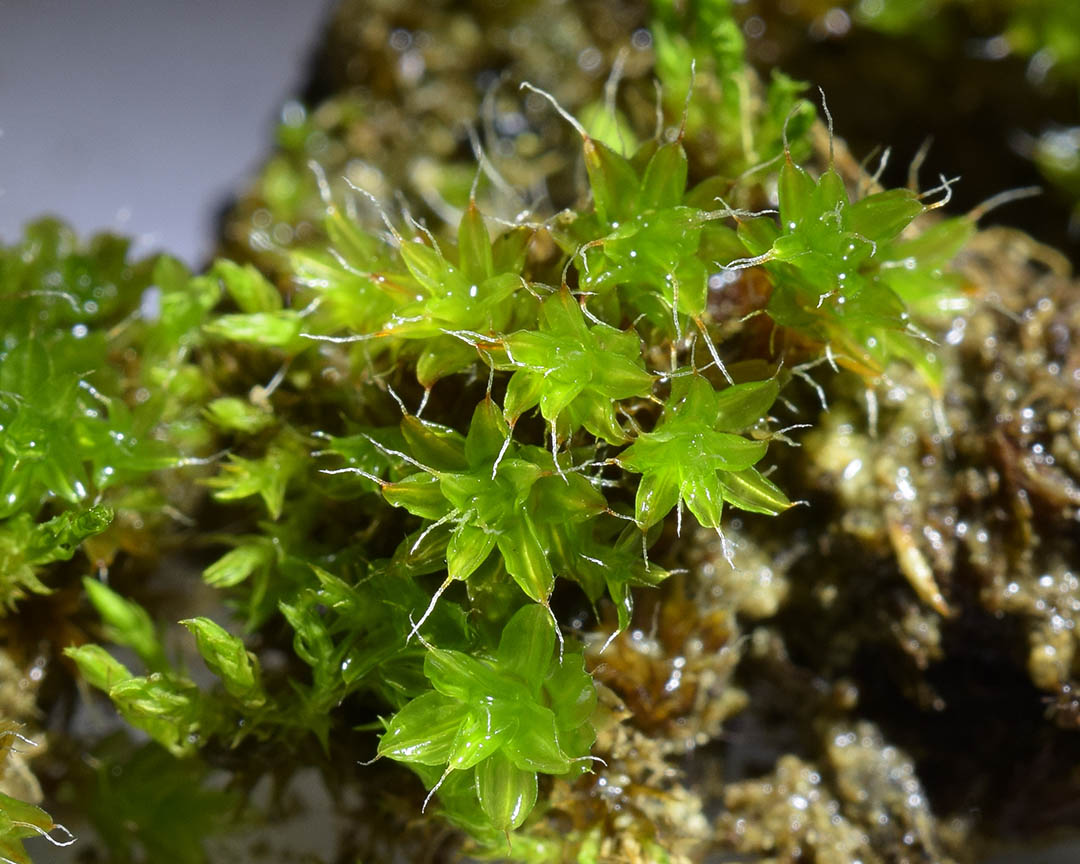 In addition to Philonotis marchica/rigida, the coastal cliffs at Shanklin support impressive displays of the larger liverworts and hornworts, including Blasia pusilla, Pellia neesiana, Phaeoceros laevis and Riccardia multifida. Dry, shaded, acid banks in the Shanklin area also support Bryum donianum, Fissidens crispus (Nationally Scarce) and Epipterygium tozeri.
There are some old records for a few other Nationally Scarce coastal species, including Cephaloziella stellulifera (2 records) and Tortula atrovirens (a 1930 record from Newtown). Campylopus fragilis (a predominantly coastal, western species) has been recorded historically from four 10km squares, including Headon Warren where last seen in 2001, and was newly found in an adjacent square at Bouldnor in 2017.
Chalk and limestone
Bonchurch Landslip at Ventnor is the most important locality on the island for bryophytes of harder calcareous substrates. Here there are mortared limestone walls and occasional boulders sheltered by secondary woodland. Noteworthy species include Cololejeunea rosettiana (several populations, including one found recently), Conardia compacta (last recorded in 1977) and Plasteurhynchium striatulum (all Nationally Scarce). Marchesinia mackaii is also present here at one of its most easterly sites in the UK. The walls in the Shanklin area also support Gyroweisia tenuis, Rhynchostegiella curviseta (Nationally Scarce), Lejeunea lamacerina and several Fissidens species, including F. gracilifolius. A rocky outcrop near Blackgang, north of St Catherine's Point is the only island site for Porella obtusata.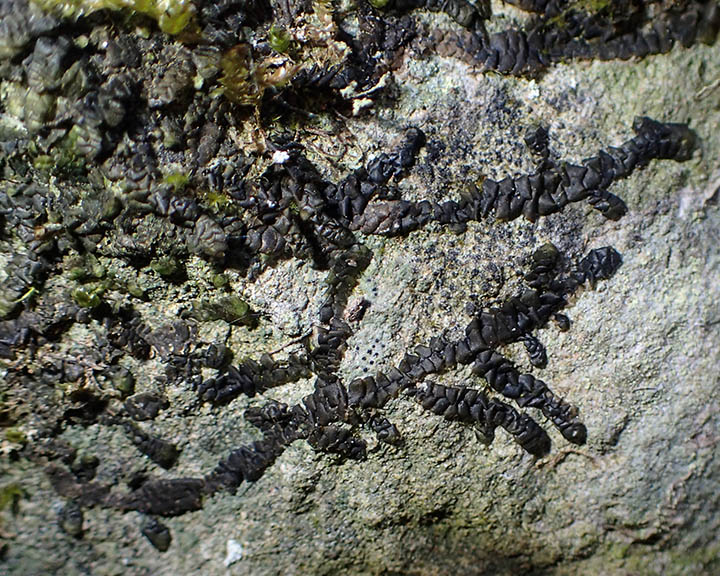 Tennyson Down, West High Down and the Needles headland support some of the best chalk grassland on the island. This is rather dry and exposed, so not particularly rich in bryophytes, except locally on the north-facing slopes where at least two small patches (c.0.5 ha) of the 'southern hepatic mat' Scapanietum asperae occur, discovered in 2017. Although Francis Rose studied and named the community he apparently did not notice it here, even though he had visited the area in the late 1970s and early 1980s. A brief survey in August 2019 found several of the characteristic associates, including Ctenidium molluscum, Ditrichum gracile (and also D. flexicaule), Dicranum scoparium, Frullania tamarisci, Neckera crispa and Porella arboris-vitae. Scapania aspera was not present in the turf, but grows luxuriantly in a sheltered quarry at Tennyson Down below one of the areas. This quarry was also found to support Gymnostomum viridulum (Nationally Scarce; second VC10 record) and Bryum torquescens (Nationally Scarce; occasional in VC10). Another associate of the community, Tortella tortuosa, was collected from rough calcareous grassland on the north side of the Needles headland in December 2017; surprisingly a new record for VC10. The predominantly coastal calcicole Pleurochaete squarrosa (Nationally Scarce) has also been recorded from Tennyson Down and a small number of other sites on the island.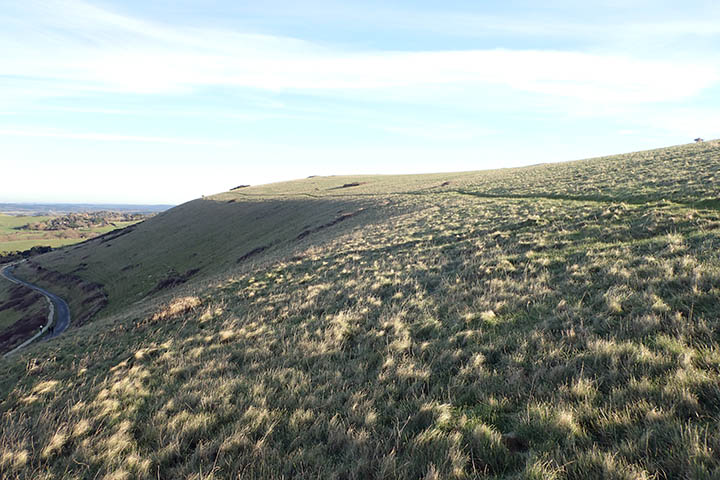 Other disused chalk quarries of importance for bryophytes on the Isle of Wight include Lynch Lane Chalkpit at Brighstone and Shide Quarry in Newport (an SSSI and Local Nature Reserve). Pottiopsis caespitosa (Nationally Scarce) and Gymnostomum viridulum were recorded at each of these respectively during the 2002 BBS meeting and both have more recently been confirmed as still present. In December 2020 George Greiff found Didymodon acutus at Lynch Lane Chalkpit which was confirmed as being the 'true' species (as distinct from D. icmadophilus) and only the third UK record. Shide Quarry also has colonies of Campylium protensum, Encalypta streptocarpa and Eucladium verticillatum, whilst Bryum torquescens was recorded there during the 2002 BBS meeting.
Three Nationally Scarce calcareous species not seen recently include Bryum canariense recorded once only by Francis Rose at St Catherine's Point in 1971 and Campylophyllum calcareum, recorded from two sites including Bonchurch Landslip in 1926. Tortella inflexa, a species of chalk stones, was recorded from two localities during the 1964 BBS meeting (including an old quarry) and a lane bank at Newbridge during the 2002 meeting.
Woodland and wetland
Wet woodland with alder and willow carr occurs along watercourses mainly in the south and east of the island. The Wilderness (an alder wood on the headwaters of the River Medina) formerly supported the only island colony of the Nationally Scarce liverwort Pallavicinia lyellii, found during the BBS meeting in 1964, but it was not seen during later searches, nor recently during a survey of this site in 2019. The woodland has dried out considerably and little suitable habitat remains. The liverwort Solenostoma caespiticium (Nationally Rare, GB Red List Vulnerable) was also recorded there in 1908, the first British record. Though undoubtedly long extinct at this site, this species could conceivably still occur on a coastal seepage somewhere. Hygroamblystegium varium, a species of alder and willow carr, has been found recently on the island for the first time since 1909. H. humile was also discovered new to the island growing in rotting vegetation in wet grassland in Sandown.
Extensive areas of mixed semi-natural woodland occur at Parkhurst Forest, Brighstone Down and as a complex of smaller woods to the east of Newport, including Briddlesford Copse (several of these lie within a nature reserve, SSSI and Special Area of Conservation). These support a range of typical woodland species but Parkhurst Forest has a few more significant species, including Cephaloziella turneri (Nationally Rare, GB Red List Near Threatened), last seen at the 1964 BBS meeting, and Fissidens celticus which is still present. Cephalozia lunulifolia was found here, new to VC10, in December 2017.
Other woodland species of note include Pterogonium gracile, known from a few sites, and Lophocolea fragrans, a mainly western, oceanic species, refound on a boulder in a wooded quarry near Shanklin, where first recorded in 1987.
Bog and heathland
Munsley Bog and Bohemia Bog near Godshill are the two main relict areas of acid bog on the island. Bohemia Bog is the most important, supporting the only populations of Cephalozia macrostachya (Nationally Scarce), Kurzia pauciflora, Odontoschisma sphagni and Riccardia latifrons. There is also an old 1930s record of Philonotis caespitosa from here, though only P. fontana has been recorded recently, so the earlier record could have been a misidentification. On a nearby road bank Bartramia pomiformis was seen by Francis Rose in 1975, the most recent record for this species on the island, which is declining in southern Britain. There are older records for about four or five other locations, so it might still survive at some of these. These two bogs also support a range of the commoner Sphagnum species, but a visit to Munsley Bog by Sharon Pilkington in 2012 added S. flexuosum and S. inundatum to the island list.
A moderate sized area of lowland heathland is to be found at Headon Warren on the western point of the island. This has several interesting species including the liverworts Scapania compacta, Lophozia excisa and Fossombronia incurva in damp, acidic turf. The most recent record of Pogonatum nanum on the island was from here in 2001.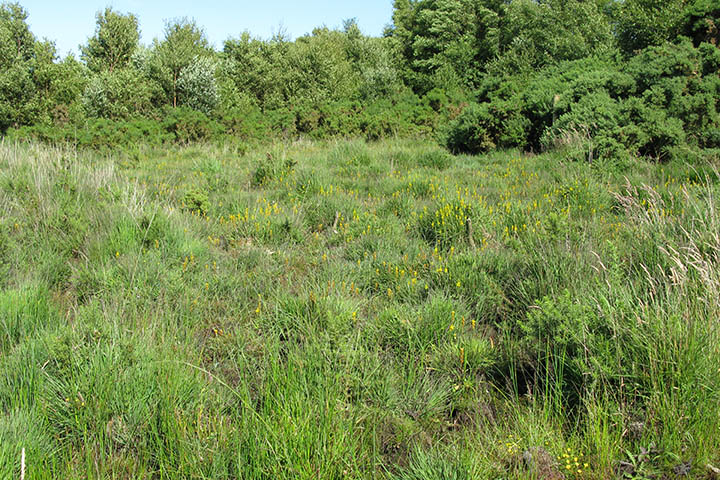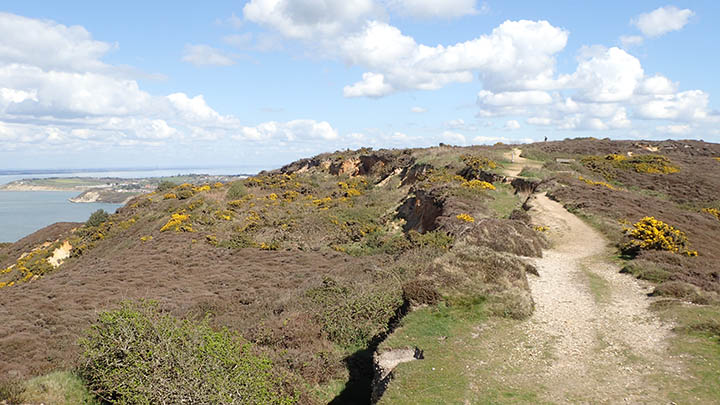 Arable
The Isle of Wight is famous for the moss Chenia leptohylla (until recently known as Leptophascum leptophyllum), discovered in a stubble field on the 1964 BBS meeting and thought at the time to be new to science. It was originally named as Tortula vectensis ('Vectis' being the Roman name for the island), but was later realised to be widespread in warm temperate and subtropical regions of the world, where it had hitherto been described under several different names. In the UK it is found sporadically at sites on the Isles of Scilly, Lizard Point and Herefordshire, also typically in stubble fields or on footpaths. In Europe it is present throughout parts of the Mediterranean, extending north-east to Germany. It was still present at its main site at Brook, on the south-west coast of the island, in 2019. Good spots for arable bryophytes appear to be few and far between on the island, due to the intensive nature of the farming, though very little recent survey has been carried out.
Buildings
Two mosses which are particularly associated with buildings are worthy of note. Grimmia ovalis (Nationally Scarce) was found by Jonathan Sleath on the roof of a cottage at Woodhouse Farm, south of Wootton during the 2002 BBS meeting and Leptodontium gemmascens (Nationally Scarce, GB Red List Near Threatened) was recorded from a thatched roof in Brighstone during the 1964 meeting. Neither have been seen since. Numerous thatched cottages are still present in Brighstone, but all are well looked after and are now considered largely unsuitable for this species, due to the lack of old, decaying thatch. The local moss Didymodon umbrosus has been recorded from one or possibly two locations along a disused railway line near Wroxall, presumably on old brickwork.